Our lives get longer, things become smarter and cities keep getting bigger. What's there not to like? Well in fact, quite a few things. Traffic jams, pollution, strained public resources, digital privacy breaches – just to name a few. The urban development has led to negative backlashes, but the very same development offers a solution to them. Will the megatrends of tomorrow's cities be the apocalypse or the only thing that can save us? And how can this possibly be a $1,5 trillion business opportunity?
We can see three city megatrends that is already shaping our cities today and will continue doing so in an accelerating speed. How does this impact our everyday life in the future and do the megatrends provide challenges or opportunities for us?
1. Urbanization
The urban population continues to grow dramatically, with the settlement shift from rural to urban areas and life expectancy increase as driving factors. The world's urban population living in cities was 1 billion in 1960. Until today, it has grown to 4 billion and is expected to exceed 6,5 billion by 2050. Heavily populated cities are challenged to provide sufficient common community services, such as public transport, water supply, waste management or basic infrastructure, to a growing citizen base. This has often lead to the unwanted creation of bottlenecks, inefficiencies and overall degradation in the quality of life in the city.
Is the urbanization a challenge or an opportunity?
Does the urbanization of our societies then bring challenges or opportunities? Both obviously, as it on the macro level stresses public resources but at the same time brings a larger tax base, greater amount of available competence and grows the economy overall.
2. Globalization
In a globalized world, the movement of goods, services and competencies across borders happen in a completely different way than before. But even fully global organizations and individuals are based in certain geographical locations. As a result, a competitive landscape is created between cities and regions to attract these companies, investments and citizens to their unique local cluster.
Just consider your own everyday-life, where would you want to live? In a city with constant traffic jams, poor water quality, long commuting distance and no green areas or parks? Or would you rather prefer a city with smooth public transportation, accessible recreational areas and overall great quality-of-life public services? In the global war for talent companies can only attract competence as long as they can offer attractive overall situations, where the geographical location will play an important role for the overall work-life solution.
Does globalization offer a challenge or an opportunity?
Trade wars, Brexit and anti-globalist movements certainly responds to the challenging side of things by proposing closed doors. On the contrary, rapidly growing cities focus on attracting companies and people instead. Growing cities are dependent on growing companies – and companies are dependent on being able to attract and retain top talent, wherever it can be found. Looking at where these growing cities are located, see picture below, could perhaps show cities in the traditional "West" where the progress is geographically happening. The great opportunity for cities is therefore simple: increase the attractiveness to live in the city and the influx of talent, competence and capital will come.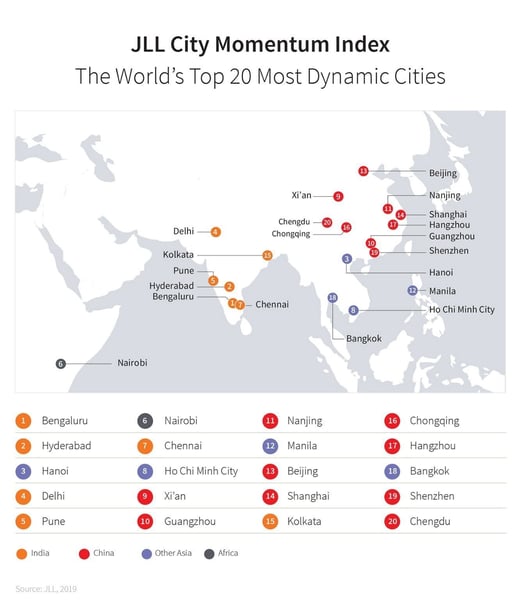 3. Digitalization
How do cities appeal to this growing urban population, increasingly attractive in the global playing field? This is where digitalization through technological innovations enables new solutions to urban problems and inefficiencies. Public services can be provided in much smarter and more efficient way than previously possible. Sensors, smart meters, big data, connected devices… The list of digital solutions enabling a digital city can get lengthy. What they all have in common is the ability to improve the city's attractiveness by providing services that improves the quality of life within the city.
Sure there's digital opportunity, but what about the challenges?
While cost savings, lowered environmental impact, reduced bottlenecks in public services and other opportunities are quite clear, there are also important challenges with the digitalization process. Techlash – a technology backlash – has become a phrase in the wake of lacking privacy, data breaches and technology alienation for the elderly. While digitalization has a great upside, many ethical considerations have to be made and thoughtfully considered in order to get the real value out of digitalized processes.
Smart City: a response to the megatrends of our cities
These overarching megatrends are pressuring the cities to act differently and do things smarter, in order to be an attractive city to live and work in. Attracting competence is a key for companies, and therefore also for cities wanting to attract companies and taxpayers.
The megatrends contain, as shown, both challenges and opportunities. However, the megatrends do not change anything per se. The question is: how do we respond to them? Will we act and transform our cites accordingly? In fact, the transformation has already begun. To overcome the growing urban problems, cities are pursuing smarter ways to manage public services and provide better quality of life for everyone within the city. A smart city takes the challenges of the megatrends into account, in order to fully enable the opportunities to prosper.
How does the Smart City impact you and your organization?
The smart city agenda can be seen as a positive response to the urban development. A solution to overcome unwanted urban problems and instead grow together with all the actors present in the city. Stockholm is one of the cities with an ambitious goal to become the smartest city in the world by 2040, and many other cities share the ambitious mindset. According to research from Frost & Sullivan, the smart city has a $1,5 trillion USD market potential within the energy, transportation, healthcare, building, infrastructure and governance segments. Forbes points out that this is exceeds the GDP of Spain. Want in? Lucky you, because you can absolutely get in on it.
Transforming a traditional city into a Smart City cannot be done by one actor. No local politician, company board or individual citizen can make the Smart City alone. Instead, collaboration between organizations will be a crucial element towards building the Smart City.
Do you want to learn more about the Smart City agenda? In our new report Collaborate your way to the Smart City, we present: perspectives on Smart City, actors within the Smart City ecosystem, barriers to Smart City and how to overcome them. Download the report now to get a better understanding of what the transformation towards the Smart City will mean for you and your organization. And how you too can get a piece of the Spain-sized market potential.