B2B buying behavior has grown even more unpredictable with COVID-19 and the connected market volatility. New buying trends and changes are already disrupting B2B sales, and have been further compounded by the pandemic. B2B buyers increasingly want to engage with suppliers through digital and self-service channels.
Research from Gartner1 suggests the future of sales will see a permanent transformation in strategy, processes and resource allocation that moves the sales organization from seller-centric to buyer-centric and from analog to hyper-automated, digital-first engagement with customers.
The same research shows that 80% of B2B sales interactions between suppliers and buyers will occur in digital channels already 2025!
The marketing and sales departments will need to work more closely together and become one and focus on:
Hyperautomation, e.g., implementation of complementary sets of tools that automate and augment business processes
Digital scalability, e.g., through new skills and digital tools, helps sellers become digital-first sellers and transform sales enablement practices
Artificial intelligence, e.g., shift from highly analog decision making to automated, algorithm-based decision making, helping align sales process, channels and seller capabilities around customers


Buyers want to engage with suppliers through digital and self-service channels
During the last year I have been observing some buying trends and behaviors escalate - compared to the steady pace during the past five years. I wanted to share some insights and observations with you, along with how they may impact your B2B buying cycles in 2021 and beyond. Every new technology disruption poses three primary problems for B2B sellers:
First, there is no historical framework for buying and selling only through digital channels. Second, existing buyer expectations are moving beyond brand-oriented considerations and shifting toward digital-first, convenient buying behaviors. Third, sellers must find ways to execute cross-channel selling, in both face-to-face and digitally-enabled environments.
B2B buyers are and will seek more intelligent ways of buying, and the B2B suppliers who enable this trend are positioned to meet the increasing expectations of a smarter, hyper-automated, digital-first buying experience.
Buyers increasingly want to engage with suppliers through digital and self-service channels, because they are hyper-focused on the problem and need to understand the solution immediately, the number one reason why digital and self-service companies lead the market is because their customers can learn, understand, test, purchase and integrate products and services (and automate many processes with limited human intervention) – and therefore obtain a better, faster and more efficient purchase decision and less time to get the solution.
When 80% of B2B sales interactions occur in digital channels - 5 areas to explore
New types of customer interactions need to be handled, without the salesperson being present, while you still control the message, flow and experience. Doing that, you will be able to generate valuable data and insights about their intent, and focus your efforts on the highest ROI leads.
To meet this evolving demand, companies have to rethink their strategy, salesforce and the available technology. And they have to build digital skills at all levels of the sales organization. Here are some areas worth to explore and get acquainted with:
Automation and personalization for cold sales outreach will move on from irrelevant automated email outreach to consist of much more context-aware and engaging content.
Deep-fake avatars for commercial use that automatically are tailored to the recipient (like the video on this page, test and create your own here: https://link.godigital.nu/avatarrequest)
AI created content for ads, blogs, and even articles like this one (guess how much of this article is written by an AI!). Check out Conversation.ai, Snazzy.ai or Writesonic.
Smarter nurture and customer validation flows where the customer incrementally are moved through a carefully curated flow of value-adding content, where their intent gets more clear for every step. This will weed out window-shoppers and prime leads before the final pitch.
Voice interfaces! Google showed us three years ago how their voice AI could book an appointment at a hair salon. We might not talk to our phones like Jarvis in Ironman just yet, but voice interfaces (think MS Dos/Command lines > Windows/Graphical User Interface > Touchscreens/gestures > Voice), will become a major thing. Not just to interact with your devices, but how you interact with companies and brands. How about letting your Voice AI handle the introductions in meetings and basic questions and you step in to perform the final pitch? Check out some of the work from eg. Kylar.ai or Silo.ai.


It's time for a change at the intersection of marketing and sales
The rapid pace of the digital shift is revolutionizing B2B behavior. Digital technologies are being rolled out across the whole enterprise, disrupting the market and exposing new opportunities. Sales departments are in the early stages of adoption so far, but is already changing the face of sales organizations and, importantly, their strategy, tactics, incentives and talent.
By 2025, 80% of B2B sales interactions buyers will occur in digital channels - the question is if you will be there?
Kontakta gärna Johan på johan.wallquist@centigo.se, boka ett möte och/eller connecta på LinkedIn.
Om författaren: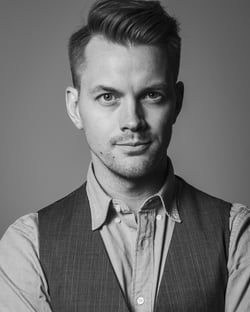 Johan driver digitala initiativ där han uppgraderar affärs- och leveransmodeller som konsult på Centigo. Han har jobbat med bl.a. Volvo, H&M, Ericsson, Miljöpartiet, Sandvik, Match.com, Accenture samt coola startups som Yomento, VivoLogica, Splyt.com och svenska Glue Home. Läs fler inlägg och connecta på LinkedIn eller maila till johan.wallquist@centigo.se.