Innovation is becoming a business critical capability in industries around the globe. We can see this on the disruption which affects all industries, the competition from fast-moving and well capitalized start-ups, and in increased R&D and innovation budgets in established companies.
Swedish companies hold a historically strong position within innovation internationally.
We were curious about the current state of the Swedish companies. What are the keys to the Swedish innovation wonder and what issues are they struggling with to turn innovation into business value?
We believed there is knowledge and best practice across industries that combined would give us the best picture, why we initiated the study "Innovation as a growth engine" with representation from different industries and different innovation backgrounds. The companies in our study have a life span ranging from 2 – 732 years and represents retail, venture capital, manufacturing and tech. Among the interviewed companies you find Stora Enso, Volvo Car Mobility, Telia Company and Monki.
12 deep interviews were conducted with people representing different roles such as Head of Business Innovation, CTO, Head of Innovation Lab, Head of Growth, Head of Strategic Innovation, and CEO. All with responsibility for innovation and growth.
We asked them questions around expectations on innovation from top management, customer involvement, innovation governance, business Integration, scalability and business value.
The summary of the study will be discussed in a blog series of two parts. This is the first part, which will give you an overview of the state of innovation in Swedish companies, where in the organization you find innovation and the nest step for the innovation practice.
In the second part we'll dive into the innovation process, innovation budgeting and governance.


An immature practice growing in importance


We found out that innovation is still an immature practice in most of the companies covered in the study. Almost all of the interviewed have two separate responsibilities; Defining and building up the innovation practice and delivering innovation projects and business growth.
But it is clear that innovation is growing in importance; Innovation gets more top management attention and the innovation budgets are growing. We can also see changes in organization. Innovation gets integrated with business strategy and c-level innovation roles such as Director of Strategy & innovation are introduced.
These changes mean a better situation for the innovation practice but also higher expectations on innovation to deliver business value.
We developed a growth strategy eight years ago and have reserved more and more budget for innovation. Still there is no growth. Now it's time to deliver!"
The state of innovation and the innovation practice differ depending on the heritage of the companies.


We see three archetypes: Those who derive from R&D, those who have a history of consumer focus but relatively recently introduced innovation as a practice, and new companies that have little or no legacy. These archetypes tend to have different challenges and different innovation organizations.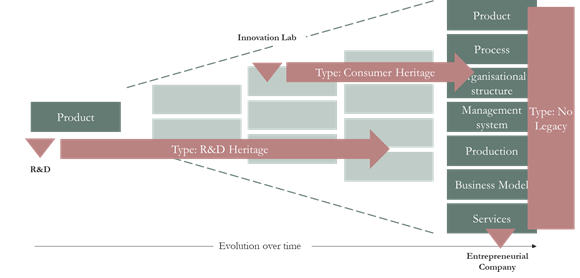 The

R&D Heritage

type company, typical manufacturing industry, has been strong in Product Development, and is now evolving to focus more on the customer, and widening the innovation definition to more areas


Th

e innovation lab is a typical starting point for Consumer Heritage

type companies. These are evolving rapidly and getting a wider and more strategic assignment.



The

Entrepreneurial company

has innovation as a natural part in it's DNA and everything they do is constantly challenged and improved



Successful innovation is about balance



Innovation is a success factor. Still it's held back by different obstacles; Interfering with operations can both be a risk and mean great economical impact.

The ability to effectively run operations in parallel to being innovative and test new concepts is the reason behind why companies are experimenting with different kinds of innovation organisations.
Successful innovation is about balance between freedom and innovation methodology in a lab (or separate company) and integration with the rest of the organization.

• If too much independency and externally recruited employees, it will influence the adoption of innovations in the organization negatively. Scalability and realization will be affected.

• If too closely integrated in the organization and manned with existing employees there is a risk that innovation will not happen, and the necessary tools and processes won't be implemented.




There are as many organization models as the number of people we have interviewed


Innovation can be found:

• In a Lab, more or less decentralized and connected to Strategy

• In an R&D function with established product development processes

• Integrated with operations to ensure life cycle thinking

• …or as a separate unit or company with freedom and expectations to develop tomorrows solutions without taking the mother organization into account

All varieties have their strengths and their weaknesses, but they often serve their role depending on the heritage of the company and the innovation maturity.
We will take a deeper look at the Innovation Lab which is one of the most common ways to introduce innovation in an organization.


Innovation Lab


The innovation lab (another denomination is Strategic Innovation) is often separated from the Business Units in terms of organization and budget. It has a clear responsibility for driving innovation and for developing and spreading innovation methodology. In terms of innovation horizons the lab often focus on Horizon 2 and 3, adjacent and radical innovation.



Strengths with this kind of organization are:
• Center of excellence
• Innovation catalyst
• Alignment
• Power and freedom to test ideas and concepts
• Include horizon 3

Challenges:
• If too isolated from the organisation it can affect acceptance and scalability
• The understanding of the business and organization from the lab
• Hierarchical heft



As innovation is growing in importance for company success innovation is getting closer connected to business strategy


We can see innovation labs evolve into Business Innovation departments with a shift of focus from introducing innovation in the company to driving business growth. The assignment widening to aligning and including innovation within the whole organization. The innovation organization integrated with the strategy team and represented by a Head of Innovation and Strategy in the executive team.



This new combination and practice might be one of the keys to give innovation the attention in the executive team to make the governance changes necessary to get clear effect and business value out of innovation investments.



Adding a systematic approach to the strong innovation culture will ensure the next step for innovation – delivering business value



The Swedish, less hierarchical, management philosophy and the entrepreneurial spirit in Swedish companies are pointed out as explanations for the Swedish innovation success.

It is also obvious that the CEO makes a big difference. A courageous and visionary CEO is needed to inspire and push a more traditional organization in an innovative direction.



"I will issue parking tickets instead of speeding tickets"

But there is further potential. To reach the next step for innovation and ensure delivery of business value most companies need to add a systematic approach to the strong innovation culture.

Learn more about how to design innovation process addressing decision making, budgeting and governance in our next blog coming out in a couple of days.



Or contact:

Ulrika Bernhoff - Partner & advisor within strategy, innovation and organisation

Johan Andersson -

Client Director & advisor within strategy, strategy execution and organisation