Centigo has visited Tokyo to study the introduction of artificial intelligence (AI)
Where else to go if you want to get inspired by companies on the edge of new technology and innovation but Tokyo! That is just what we thought when we, two weeks ago, went on an inspirational trip to Tokyo to know more about how the business environment is shaped by the introduction of artificial intelligence (AI).
It is interesting to see how a city that is so crowded still can feel so calm, we are all struck by the politeness of the Japanese people and the total lack of trash bins. It is a city that from an outsider is considered very structured, where everything has a certain procedure for how it is done. From entering the subway to making business.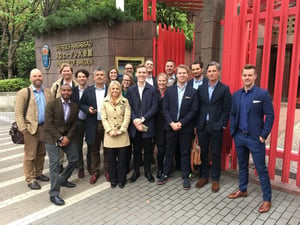 Tokyo is really a technological hub, but have had some trouble in following the rapid speed of technological innovation concerning AI. Japan is and has always been very good at the hardware side of technology, leading in areas such as robotics, but as AI has grown to be more of a software product, Japan has seen themselves outrun by countries such as the US in some areas. Despite this fact, the knowledge of AI is widely spread.
In Tokyo we visited:
Business in Sweden

Sato


Panasonic

Sony, Nextremer

and GR Japan


They all give their view of the impact of AI on society and business. They all seem to see AI as a natural part of both their future business and society, and are investing both time and money to find new ways to incorporate AI to stay competitive in the market.
At Panasonic, we visited a future shop and a home, where AI is an integrated part in helping people to get through their daily life, from shopping to cooking.
While at Sato, we instead learn how new technological solutions can help companies to keep track of inventory and prevent damages by the usage of smart machines that can request service before the damage occur.
There is a great will to know more and expand within the AI field. Most of the business leaders that we meet are eager to know if we can recommend any AI companies that they potentially can collaborate with to grow within the area. Here we shared our experiences from collaborating with tech companies in our AI Business Lab within the Business Wellness Group, where we help our clients that are interested in AI.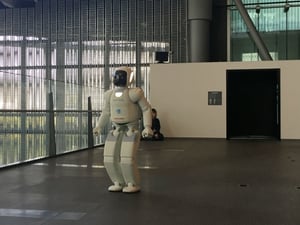 There are no discussions relating to if AI will be important in staying competitive in the market, but how AI can be included to make business more effective. Most companies that we talk with have already an established AI lab or innovation hub internally, where new ideas and innovations within AI are continuously developed and tested. This is a sign that the Japanese companies that we meet do have a head start in comparison to many in Sweden concerning incorporation of AI.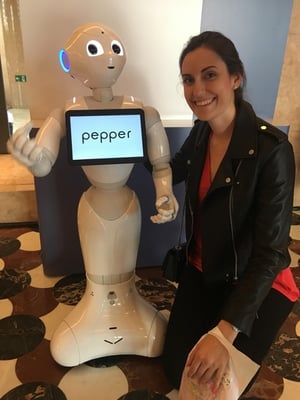 AI is not only big at the companies that we met. On the subway we were hit by the commercial of IBM's AI Watson and in the lobby of the hotel where we were staying we met Pepper (IBM's robot that is ran with Watson) who are welcoming all the guests. It is obvious that the awareness of AI is a lot higher than in Sweden, even though the knowledge of AI is growing rapidly also in the Nordics.
In summary, we all leave with the sense of being inspired of both the Japanese way of living and making business to the implementation and view of AI. Whether Japan is just behind the elite in AI development, Tokyo is a leading city concerning general knowledge of AI.
Author
Rebecka Birgersson
Management Consultat, Strategic IT, Centigo