Companies invest a lot of resources and efforts in developing and releasing digital services, unfortunately many times without ever validating key assumptions along the way. Having a history of being successful at traditional sales and marketing, many companies also struggle with designing and transforming to an operating model required to run a digital business. So how to identify and grow a digital business? Below is a high-level overview of the steps needed.
In this second post in the series "Transform and compete in the digital age" I will present a conceptual overview on how to identify and grow a digital business. (Click on the button below to read the first article of the series.)
My experience is that many digital business initiatives are initiated by a company's management based on a hypothesis and a solution that is predicted to address a customer need. This is natural since the management in a company most often have great insights about their company's customers and the industry in which they operate. However, there is a risk connected to having a digital business initiative relying solely on that the management's prediction is equal to the actual voice of the customer.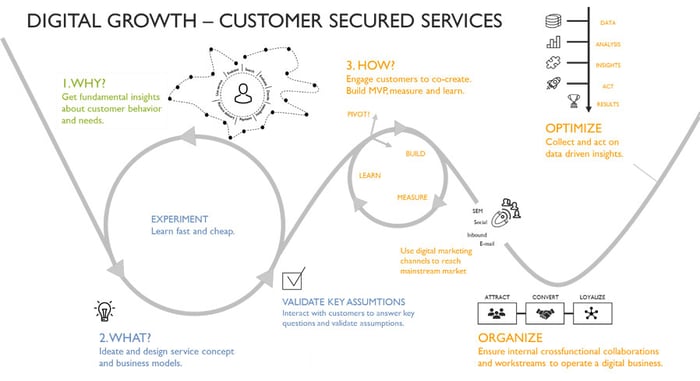 1. WHY are we creating a service/solution?
You need to start by acquiring fundamental insights about your customers behavior and needs. Insights can be acquired from many sources and methods. One of the most obvious ways is to analyze data, especially customer footprint data. But to get even deeper insights and to be able to see emerging opportunities, it is not enough to have capabilities within advanced data analytics. Your organization need to acquire capabilities to practice empathic listening*, being able to observe customers and the world unbiased:
Without judging based on past experience and trying to confirm your own mental models and worldview

Without being cynical about the outcome and intention of other humans
Without fear of potential change that will prevent you from seeing emerging opportunities

(More about understanding customer behavior and needs in upcoming posts!)

2. WHAT should we develop?
With fundamental insights about your customers and knowledge about enabling technologies, you have a foundation for ideation and designing service concepts. However, before investing heavily in developing a digital service, important assumption can many times be validated without doing any development at all.
By creating trigger materials or low fidelity prototypes you can interact and observe customers. This way you will be able to validate key assumptions and get additional insights. Iterating the ideate and customer interaction loop several times will give you a more solid understanding of what should be the scope of the next investment – the MVP – Minimum Viable Product.
3. HOW can we achieve growth and make sure that customers like our services?
As mentioned in the introduction many companies spend a lot of resources developing and releasing services to the market without ever validating key assumptions. Inspired by principles from Eric Ries and the Lean Start Up movement, the next step is to create a MVP. The creation of the MVP starts the build-measure-learn feedback loop.
"The minimum viable product is that version of a new product which allows a team to collect the maximum amount of validated learning with the least effort"– Erik Ries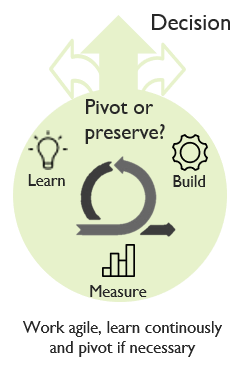 With a short and efficient feedback loop you can validate and learn if your value or growth hypothesis seems to be right or if you need to pivot and take another path. This way you can work to eliminate major uncertainties early on without wasting a lot of resources and at the same time create value incrementally to both customers and the company.
If you are a non-digital born company, transforming to operating a digital business will most probably require an update of both capabilities and the operating model. Capabilities within digital marketing, analytics and user experience are essential to get insights, improve and optimize a digital business. The nature of a digital business also requires even closer cross-functional collaborations within the company. A great digital service is not much worth if your marketing initiatives does not attract any or the right visitors.



Digital businesses requires even closer cross-functional collaborations
One of the most important success factors is to design your software development and operational processes so that they enable:
Continuous flow of incremental value delivery*, e.g. that bug fixes and improvements are released to customers continuously
High flexibility in re-prioritization of requirements depending on changing customer needs or business objectives

This was the second blog post in the series "Transform and compete in the digital age". Click below to read the first blog post on how to approach Digital Transformation.
We strive to always get new perspectives and want to have your input on how you approach Digital Transformation and what challenges you encounter. Your input will directly influence what subjects we will dive into in upcoming posts. Please, send me your comments and thoughts!
About the author
I have always had a need to create and my interest and passion fell on creating digital services. Throughout my professional career, both as a line manager and consultant, I have been working with questions and projects covering everything from operational excellence to digital business. The common denominator has always been digitalization. I have spent most of my free time trying to design and develop digital services and also faced the painful reality of how hard it actually is to be successful.
Please send me an email if you want to have an inspirational meeting to further discuss digital transformation and growth.
*Sources: Scharmer, Otto. Theory U – Leading from the Future as It Emerges; Knaster, Richard. SAFe 4.5 Distilled: Applying the Scaled Agile Framework for Lean Enterprises