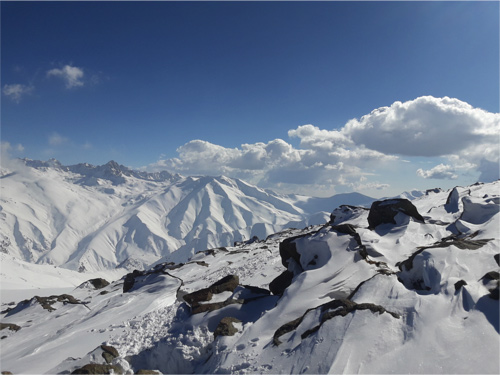 Here is the Q1 newsletter of Centigos Indian Business Digest
I have just returned to work after a short vacation at the Indian ski resort of Gulmarg in Kashmir. I've been skiing more than 50 times in my life, but nothing quite compares with the wonderful skiing in Gulmarg. This was my second visit to Gulmarg and I count these two ski trips as the best ones ever. The gondola takes you up almost 4 000 metres and is the highest in the world! The pristine surroundings came as such a surprise since I had no idea when I arrived here that India offered such a "ski diamond".
I believe this applies to the business climate in India as well - loads of potential that is hard to understand at first, and sometimes tough to realize.
Here are the highlights of this issue:
Highlights of The Business Market in India

An Update on India's Macro Indicators
SAAB believe they will close the largest order ever
SCA withdraws from the India market

How to Realise The Potential in India Business insight

Create High Performing Teams in Business – one key element in Strategy Execution

The word of the quarter: PARDARSHITA
For example, recently SCA, the major Swedish hygiene products company, withdrew from the Indian market. SCA looked at India with its 1.3 billion people as holding immense potential, but unfortunately it didn't turn out like that for them because they failed to fully understand the dynamics of the Indian market, despite all their success in other markets.This begs the question: Can we win in India? This is a highly relevant question and one that is not always addressed clearly.
Indian market is not homogenous
As I advise Clients in Market Entry Strategies, it is critical to understand that there is no one homogenous Indian market. Instead, India is a collection of many different markets that vary in size, culture, language and buying behavior.
For instance, some businesses are very local and limited to each large city. In the Indian market there are at least 10 cities above 6 Million population, and therefore 10 different markets with varying factors that need to be taken into account.
The SCA analysis can be found in the Business Market chapter of this newsletter. The analysis concludes that while it is not without its challenges, the Indian market still contains a lot of potential, particularly for Swedish companies. With unique market positions, they can take advantage of the promising economy and benefit from current developments in key areas touched on in this issue. The Business Insight chapter focuses on how to Create High Performing Teams in business.
---
This is a topic close to my heart and one that I have worked extensively on since I came here 5.5 years ago. I would, therefore appreciate any thoughts or comments you may have on it, or any other section of this newsletter.
You can download the full report below:
If you want to know more about the Indian business - by Centigo, dont hesitate to contact me via
email: johan.andersson@centigo.se
Yours sincerely

Johan Andersson
Consultant Centigo, India