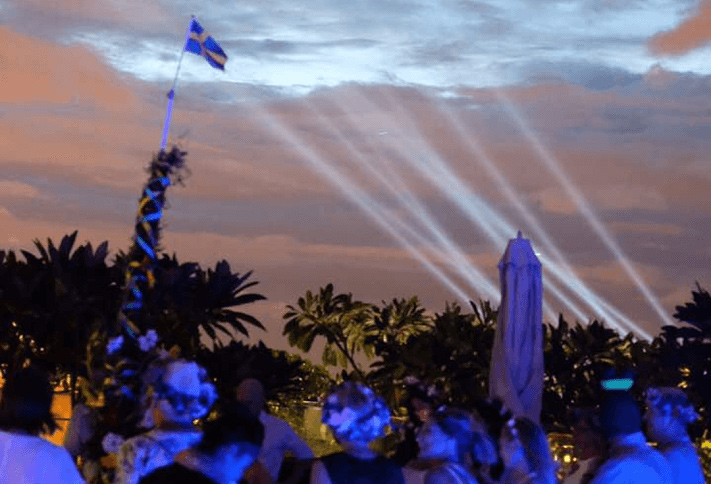 Swedish v/s Individual traditions and festivals
A few weeks back we celebrated the Swedish festival of Midsummer. Like the rest of the expat communities in Bangalore, The Swedish community here also gathers a few times a year to celebrate Swedish festivals and traditions - the Midsummer, Christmas, Eastern, and occasionally, the Crayfish party!
When I first came to India I was amazed to learn all about Indian festivals and traditions which are far more numerous than the Swedish ones. I asked a lot of questions to better understand them and have become quite familiar with them over the years, with the Indian festival of lights – Diwali, being my favourite!
Of course, during my years in India I've also been questioned about Swedish traditions and have come to realise that some of them are equally tough to explain and understand. For instance, it's hard to explain one of our most rigid traditions during the Christmas holiday… that of gathering at 3pm every Christmas Eve around the TV to watch 1 hour of Donald Duck! It seems very normal to us and we do it each year, despite the content of the TV show being 95% the same every year! That makes me realise that we all have our own culture and traditions, which appear quite normal to us, but can confound those who don't belong the same culture.
Same is true with Business
There are big cultural and societal differences. As a result, consumer behaviour and demands are also very different. We are living in a global world – but things will also always have to be local to succeed. This is particularly true in such a strong sub-continent like India. For us at Centigo, this is Glocalisation.
In fact, we believe that this phenomenon is one very important key to succeed in India. Basically, this means
maintaining a healthy balance between the number of global practices you bring to India,
and the extent of the local adaptation you do across your business in India.
We did a study of 13 Swedish companies in India earlier this year where we considered the glocalisation ratio and concluded what a successful model should look like. This is elaborated further in the Business Insight section of this issue.
Volvo and Apple
In recent examples of glocalisation, Volvo and Apple, are both localising their production in India. We believe Swedish companies in general are relatively good at localising some of their key activities such as production. This might also be the reason why Swedish exports into India have decreased in the last few years, which they actually have. Today for instance, Swedish companies employ over 150 000 people in India!
Here are the highlights of The Business Market in India:
An update on India's key Macro Indicators

Volvo cars and Apple start production in India

Swedish companies implement their ethical values in India

How to Realise The Potential in India

Business insight: Win the market with the right Globalisation



The word of the quarter:

PRAGATI
---
You can download the whole newsletter below:
If you want to know more about the Indian business - by Centigo, dont hesitate to contact me via
email: johan.andersson@centigo.se
As usual, I appreciate any thoughts or comments you may have on this, or any other section of this newsletter!
Yours sincerely

Johan Andersson
Consultant Centigo, India