Just back from vacation? Maybe sailing was one of your holiday activities? This blog is the first in a series on entrepreneurial leadership: How to master the unchartered water where nobody has explored before, or perhaps where others attempted – but capsized along the way. More specific this blog is about how you can use a collective approach to strengthen your entrepreneurial leadership.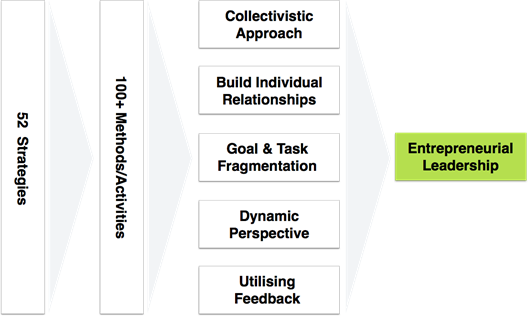 Weathering the entrepreneurial storm is considered by many an art form but an undeniable, universal truth is the unilateral impact of an extraordinary leader on the chances of triumph in the face of great adversity.
The entrepreneurial leadership transcends the classical view of leadership. I've had the chance to interview, ten prominent entrepreneurs holding positions of leadership in large Swedish startups*1, as well as managers in companies typically associated with entrepreneurship like Airbnb, YouTube, Google, 500 Startups and many more.
As such, I have identified fifty-two underlying strategies, each corresponding to over a hundred different examples and sets of practical routines, activities, and methods, which have then been condensed and grouped into five primary skills.
In this blog series I will share practical advice on how you can improve these five leadership skills and excel in entrepreneurial leadership. Today I focus om the first skill.
Encompassing a Collectivistic Approach
It is critical to actively involve the team in operational and strategic decisions as well as encouraging participation to convey the 'bigger picture'. In short, as a leader, you need to offer a sense of inclusion in order to intertwine the success of the company with that of your team - make them part of a team with a purpose.
"Getting everybody onboard is a continual process. They don't work for me, they work for each other and, that is something that everyone should have an interest in, our best interest, not mine." - Joel Svensson, CEO at Partykungen
While seemingly obvious and somewhat intuitive, this can sometimes be difficult to put into practice. As such, I offer you three examples of methods already used in prominent startups that you can employ in your firm to strengthen the sense of belonging.
Assigning Popcorn Buddy's
Pairing up employees two-and-two on a rotating weekly schedule to become "popcorn buddies" can help foster stronger interpersonal bonds and increase productivity. For example, these individuals meet in the morning to go over personal goals for the day, which both are then responsible for following up. Later on, for example at lunch, they are able to track each other's progress and offer solutions to existing problems that may block them from completing the task on time.
It is crucial that you display affection for all parts of the operation and that you are all a team. There are many ways to do this, ranging from putting yourself in the shoes of your employees (when is the last time you took that missing shift in the warehouse, or took some customer service calls?) to reducing the amount of private offices. Furthermore, not abusing privileges and making sure your followers feel as if though you are on the same level is important to reduce uncertainty and to inspire, motivate and encourage collectivistic behaviors. Perhaps it's better to let the Porsche sit at home.
Developing a Culture of Sharing
A CEO in a large Swedish start-up once told me "I'm not only a leader, but also a coach and a teacher. I guide my employees by creating a culture where it is OK to not know everything. We're only human, and it is perfectly fine to ask for help. If this is a problem, and if I cannot gain their trust, I take them out for a 30-minute walk where I explain things from my point of view. They can talk if they want to, but sometimes they might just want to listen." I think he managed to capture just about everything there is to say about this method; don't be afraid to ask for help - we are in this together.
In coming blogs about entrepreneurial leadership we are going to look deeper into the other four perspectives, next in line is focusing on how you can effectively build individual relationships, why it's important as well as some more practical examples.
If you have any questions, want more examples or would like to reach out about leadership & management in your organization, don't hesitate to contact me at simon.hagert@centigo.se or at +46 76 887 54 36

*1 Ten different Sweden-based startups with turnovers ranging from 1-120M SEK and are relatively young (<5 years).