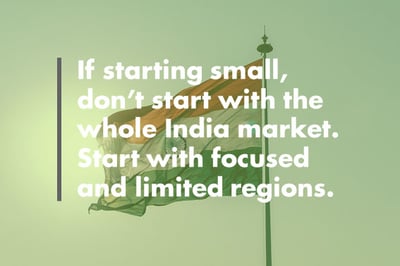 The India market is complex. It is not easy to find a pattern based on which companies have been successful in India. How do you enter this market? Or re-enter as some companies also have done. To address this question, we have produced a series of blog posts that might help you to get orientated.
This blog series contains the chapters:
Timing, Character & Execution
We believe that these areas should be processed in the same order. This blog post is about the third one –Timing, Character & Execution.
Timing
If you have found that there is an opportunity that your product(s) will match the Indian market, the second question is timing. When do we enter? This is what JCB and several other companies have expressed as their most critical success factor in their India entry.
Sometimes you can plan this to some extent by following the regulations on your specific market. Sometimes you can look at the maturity in the market segment and be guided by the expected growth. Sometimes you can develop the market. It's about the overall timing.
Character
However, along with the opportunity and the timing analysis, you will also need the right attitude to succeed. To move to the next step in realizing the business case, you will need someone with strong character and attitude to drive this forward. A combination of being visionary with a great amount of courage is an example of such a leader.
Execution for the initial steps
We did a study earlier this year where we studied 14 Swedish companies' entry strategies, and based on the observations we found our key conclusions are the following:
Since the India market is highly dynamic and changeable, the establishing process is more efficiently driven in an iterative way with clear steps but with allowances to adjust on the way.

It is preferable to take small steps at a time, but these steps must be very clear and be driven with full attention. "Playing with the left hand" seldom works in India.

Governance and present leadership is crucial at all levels: within the India entity, between the India and European entity, and with the external partner if there is one. Investment in coaching for the Indian team often results in a very good payoff.

It is relatively difficult to choose the right external partner. Be focused during this aspect and do not neglect the assessment of the culture of the partner.

If starting small, don't start with the whole India market, instead start with focused and limited regions.