In today's digital business context, the use of IT has a significant impact on the organisation's environmental footprint, particularly in industries with a high degree of service delivery such as financial services, public sector and the technology industry itself. The consumption of energy by the technology industry makes it a huge offender for emissions while UK & Ireland fail to make their emissions targets. The amount of energy consumed during an ongoing cost of energy crisis also emphasises the need of making IT greener - and leveraging IT to reduce the climate impact of organisations and their eco-systems.
Information Technology accounts for an increasing share of companies' and organisations' environmental footprint. Key drivers for this increase include:
- Increase of digital content in products, services and processes
- Increased use of digital communication between individuals and companies
- Higher demands on speed, volume and quality
- Widened use of IT systems which require processing capacity, data storage and more hardware and devices
- More advanced processing including analytics, streaming, and blockchain
On the other hand, IT services and digitalisation enable climate efficiency, for instance by supporting blended/hybrid working, optimisation solutions for resource efficiency, and enabling regenerative business models. The IT industry as such is also moving rapidly towards cloud-services, which offer lower climate impact through a higher utilisation of capacity. The cloud-services vary in climate impact, driven by how they are powered (hydro/nuclear vs gas/oil/coal) and how energy efficient they are. (This was recently covered in an article featuring Centigo expertise.)
Companies and organisations are exposed to increasing statutory requirements to disclose their environmental impact. In the EU, CSRD is replacing NFRD and introduces new and higher demands. In Financial Services, TCFD puts additional pressure on organisations to define its Scope 3 impact (which includes the companies they lend money to and/or invest in). Organisations which cannot report their climate footprint may soon stand the risk of not being qualified for loans and investments – or need to pay a significant premium, which is already the case in some progressive European markets.
Such increased reporting requirements also open up for companies to be more attractive – more than being just compliant to their customers' requirements. The infrastructure and property industries are driven by investor and government requirements, which in turn cascade to construction companies and its underlying value chain of manufacturing, technology and services. Companies which can comply with their customers' (or customers' customers'!) requirements are much better positioned than those who cannot. Disclosure and reporting will be key, over and above to reduce the environmental impact as such.
Centigo has since the late noughties helped private companies, public sector organisations and NGOs in the area of Green IT. We have also supported organisations to develop the IT financial and value management structures, processes and performance through TBM (technology business management) expertise (see recent article) and digital strategy formulation. Examples include large organisations in higher education, state agencies, property and construction, aid organisations, financial services, and retail. We combine these areas of expertise to help our clients achieve Net Zero IT, which is a way to:
- Reduce climate impact

- Lower costs

- Improve traceability and reporting (efficiency and quality)

- Enable and support the whole organisation's and its value chain's net zero ambitions
Illustration: Centigo's Net Zero IT delivery model and approach: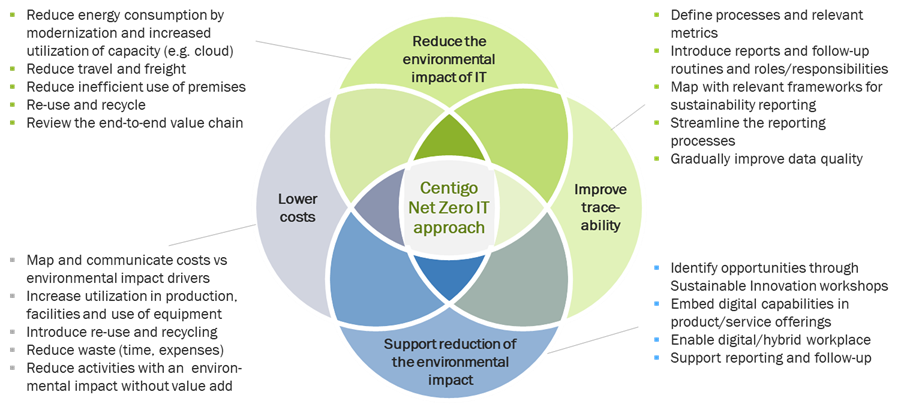 We at Centigo believe, based on experience as well as a vision of an increasingly digitised future, that the IT and digital transformation can be one of the greater forces for good in achieving Net Zero. In addition, ICT (including 5G and Communication networks) opens up for new opportunities to make whole value chains significantly more efficient (see a recent report written by MIT on the potential of 5G to reduce climate impact.
So the future can be bright, at least for those companies, organisations and economies which prioritise and work effectively. We at Centigo have the experience, insights, capabilities and network of subject-matter experts to support organisations to define their way to Net Zero and achieve it in a fast – yet realistic – pace.
"Sustainability Gives Digitalisation a Purpose. Digitalisation Makes Sustainability Work." -Centigo
From an organisational perspective, leaders of IT and Digital Transformation (be they CIOs, CTOs, CDOs or CFOs) are very well positioned internally to make a difference and lead Net Zero roadmaps, since they i) can identify synergies between reducing climate impact and lowering costs within the IT operations, ii) know data availability/quality and reporting processes, and iii) participate in digital transformation projects which can reduce climate impact in the whole organisation - while increasing its effectiveness, enhancing its customer attractiveness and enabling new business models.
If you are interested in discussing further how to turn sustainability into an embedded part of your organisation's advantage please contact us at Centigo.