How do you effectively manage investments in digitalization these days? Many topics need to be covered for being able to answer this question. We have now tried! Through contacting some of the largest Swedish manufacturing industry companies we dug deeper and discussed how they approach and carry out their digitalization strategy. Sixteen companies in total took part in our study, of which ten are large cap. In the first blog we wrote about how they set direction for their digitalization work, status of their digital maturity, what opportunities they see in future technology. Link here.
In this second blog we elaborate on the type of leadership that will be required and how to ensure full realization of the investment. Based on the responses we identified five execution themes: Innovation, Agile way of working, Governance, Business & IT Collaboration, and Decision Making. In the report we elaborate on well-proven practices and our view on critical success factors for each of these themes. In this blog we have highlighted a few of these areas.
Innovation

Swedish companies have traditionally been very strong in innovation. For instance, the companies' median life expectancy of this study is 102 years (!), which is a good indicator that they have been able to change and innovate to survive through several cycles. We believe that one reason of the innovative capability is the Swedish management style and culture that have enabled innovation by empowering people, among other things.
Well proven practices
Many organisations drive innovation from the organisation's business units closer to the market, and not centrally. Then the central body picks up success stories and shares company-wide if it is relevant.
Some are also applying start up methods such as metered funding, and creating networks of digital natives, e.g., a "digital battle team".


Our view on critical success factors
Often, there is room for improvement to take better decisions in which initiatives to develop and bet on, especially in early phases. There is often a too big focus on the financial business case, which is at an early stage very uncertain. To prioritize right, the decision process including clear decision criteria for different phases are often not sufficiently established.
Agile way of working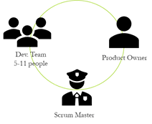 Most companies have come a long way in implementing agile way of working. A larger study Centigo did specifically about agile transformation showed that out of the 30+ participating large organisations, they all started their end-to-end agile transformation in average 5 years ago. However, few companies have actually realized the full potential from the new way of working.
Well proven practices
Success factors in the manufacturing companies have been to establish a clear target picture, get the right people who think agile, and to educate and coach the team members.
To shorten the time to market for the product development, which is one typical driver for implanting agile methods, a good practice is to ask the question "Should we buy or make?" instead of asking "Should we make or buy"? In today's scenario there are many solutions available on the market.


Our view on critical success factors
Top management team must go all-in in this kind of transformation. It's sounds a bit cliché, but it is very much so when it comes to agile transformation. The agile transformation is often something that started in the IT department and then grow further into the business and upwards in the organization. Combining this with the fact that to empower people in the organization is a key for the agile working style, it is natural that the management team feels risk of not having the change under control.
One specific challenging area for agile transformation is leadership and culture, since it implies a new way of leading, empowering and coaching the teams.
Governance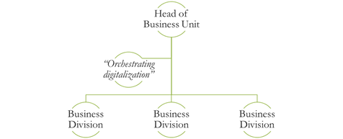 To find the right governance for the business and digitalization development is a mighty task, but very crucial. A successful philosophy that many applied is "centrally orchestrating digitalization for a de-centralised organization", which has become a win-win model for many.
Well proven practices
Local business areas/divisions own the digitalization initiatives, with assigned business owners. Central functions help to scale and orchestrate where it is needed.
A central role can for instance be to pick up and share success stories for making a buzz, or inspire through for example tech vendors.


Our view on critical success factors
We believe in a leader style that enable more and local innovation, digitalization, and ownership, which clear frames and directions for the organisation.
The central governance must have a clear mandate to enable collaboration between units when there is a strong interdependence of various reason for complex areas.
Business & IT Collaboration

The interface between Business and IT has developed through various phases, from a more professional interface, to a stricter supplier and demand interface, to a more collaborative interface. A key observation from the study is that the most successful collaborate in a way where the business drives digitalization supported and advised by IT.
Well proven practices
A common set up that many organisations apply is a Business - IT partner model with clear point of contacts on each side. To get this model successful, some let central IT inspire the organisation to innovate through presenting interesting digitalization opportunities, and technology vendors inspire from their network of vendors.


Our view on critical success factors
We believe it is critical to shake hands on the collaboration to ensure business and IT are on the same page and committed. One thumb rule of distribution of responsibility can be described as:

The business in the front seat owns WHY investments should be done in digitalization.
The business then reaches out to IT and they collaborate in discussions around WHAT investments to prioritise.
IT then coaches and advises the business about HOW digitalization could be done.
Decision Making
To be able to focus on the right investment the process of decision making is vital. Decisions that are less quantifiable and not possible to create a financial business case for are more difficult for management teams to take investment decisions upon.
Well proven practices
To take decisions for larger investments, many participants responded that it's crucial to speak the business language and demonstrate the business value for management teams.
One particular way to do this is to make the top management team understand what the opportunity cost is if NOT investing in the digitalization initiative.


Our view on critical success factors
The business case needs to be described in several dimensions and not only in financial numbers, but also in terms of strategic value and other key areas, where opportunity cost could be part of the case.
It might be beneficial to prove the value in small pilots and iterations, to ensure the realized value in the organisation, and thereafter scale.
We at Centigo offer independent advisory in digital investments and execution to ensure full potential of the investment to become tomorrow's winner.
About Centigo
Centigo is a management consulting company with many years of experience in cross-functional business development and digitalization. Within the manufacturing industry we help companies with, among other things, strategy formulation, process development, evaluation and introduction of digital tools and solutions as well as change management.

Johan Andersson
Client director and advisor in strategy execution and organisational agility

Jonas Ekman
Advisor and project manager in digitalization for the manufacturing industry